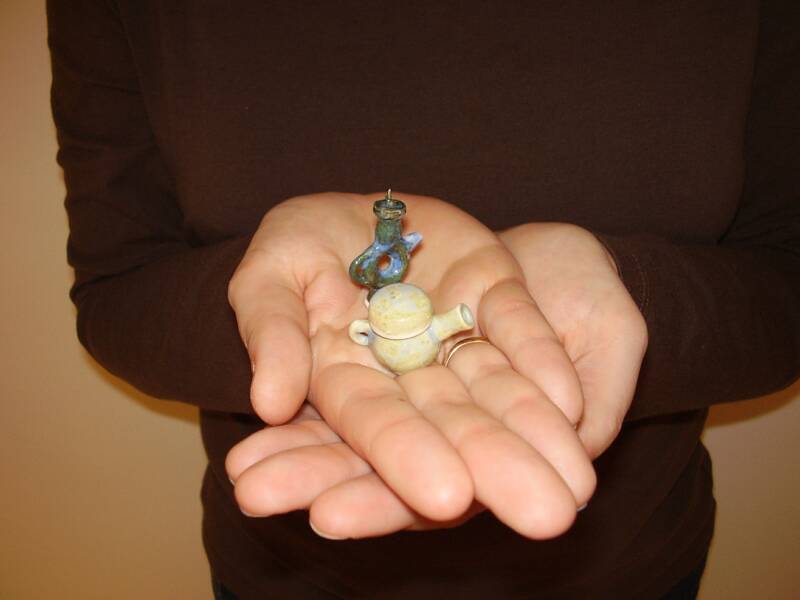 Andie Plamondon specializes in miniature pottery that is functional as well as beautiful. You will find that the spouts are open, the lids and stoppers are removable, and the interiors are open, so your miniature vases and pitchers can hold water, and your miniature tea cups will, in fact, hold a few drops of tea.

All are thrown from very high quality Grolleg Porcelain on a standard size wheel, and are fired to 2100 degrees F. (Miniatures out of stoneware and black clay are created by request.) All miniatures are less than two inches tall, with most being one inch or under. Like Andie's full-size pottery, they are not mass-produced or cast, so each piece is one-of-a-kind. Every piece is also signed by hand.

Andie began creating miniatures not only for dollhouse and shadowbox collectors, but also to give the galleries that represent her the opportunity to provide collectible works of art that were suitable for children. Andie feels strongly that miniatures can introduce children to art in a new and interesting way. In an effort to support children's interest in the arts, several are donated every year to charity auctions that can aid children, such as the Empty Bowls project.






Functional Art Pottery & Thrown Miniatures by Andie Plamondon Davis

Wheel Thrown Miniatures

in Porcelain & Stoneware